Any machinery that has moving or rotating parts will require regular maintenance to ensure that it performs at optimal capcacity.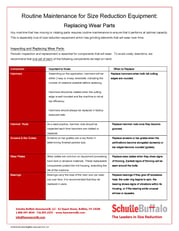 Our fact sheet, Routine Maintenance for Size Reduction Equipment is a handy guide for inspecting and replacing wear parts for your size reduction equipment. This fact sheet includes the following:
The five most common wear parts

What is Important to Know about each part
When to Replace each part
Download this handy guide now.
Share this offer: